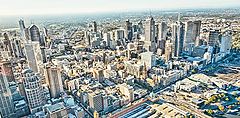 The real estate market in this 2018
Making a projection of the future, whenever it is about realistic assumptions, is positive, since it helps us to know what we can expect; and, consequently, to make intelligent decisions. In markets such as real estate, which are subject to conjunctural changes, it becomes more important, if possible, to know the movements in advance.
In this case, the real estate market in 2018 offers us a series of novelties that we can not ignore and we will explain in this article. In this way, counting on information, everything will be easier.
Read more